Recent Articles:
About Me
I love making stuff and solving puzzles. I am mak...
Lua Libraries
Here are some Lua libraries that I have used or fi...
Lua FFI
Intro :Trying to learn and standardize the Foreig...
Electronics
This section contains links to everything related ...
Lua Compiler
Some notes on the C code of the Lua Compiler Lua ...
Create a schematic in Cadence that looks like the following: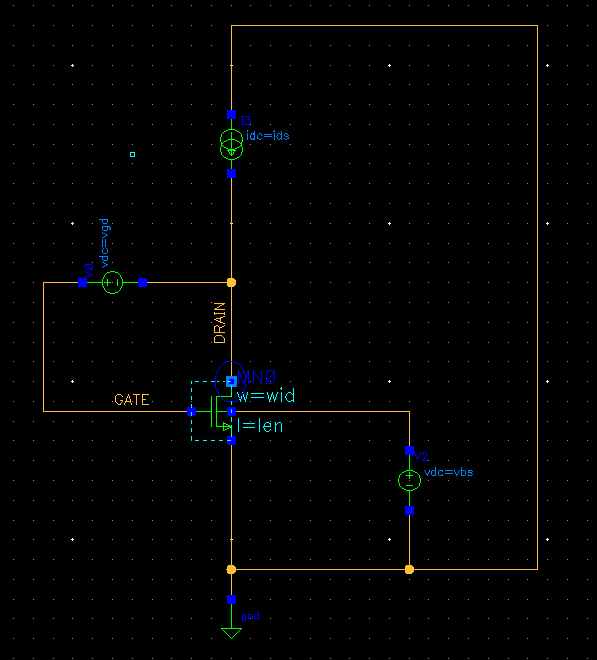 Notice here the current and the voltage values are setup as variables.
We will run a DC sweep of the drain current and save the operating point for the whole sweep.
Create a text file and add the following:
save MN0:oppoint

Note here that MN0 should be a BSIM model device already. Sometimes it may be a subcircuit in that case MN0 should be replaced by MN0.mnbsim, etc.
Now save this file somewhere and include it in the Setup->Simulation Files->Definition Files list so that it gets included in the netlist
Now setup the variables as follows:
wid = Any width you want to characterize
len = Any Length you want to characterize
vgd = Gate to drain voltage can be set to 0 or any value if you want to simulate near triode regions or on the other end hot carrier effects
vbs = can be set to the Bulk Source voltage desired
ids = di*(TMP+273)/300 - if the current is to be PTAT in biasing otherwise just set it equal to di
di = average current to characterize
IDL = current for lower extreme measurement = dil*(TMP+273)/300 
IDH = current for higher extreme measurement = dih*(TMP+273)/300 
dil = <val> here <val> is the lower tolerance of di. If not PTAT then set it simply to <val>
dih = <val> here <val> is the higher tolerance of di. If not PTAT then set it simply to <val>
TMP = temp (if PTAT operation) or 27 (If absolute values of dil and dih need to be used

Now setup the DC sweep to sweep di from IDL to IDH.
Now setup the measurements as:
VTHL = value(v("NM0:vth" ?result "dc") VAR("IDL"))
VGSL = value(VS("/GATE") VAR("IDL"))
VDSATL = value(v("NM0:vdsat" ?result "dc") VAR("IDL"))
GML = value(getData("NM0:gm" ?result "dc") VAR("IDL"))
VTHH = value(v("NM0:vth" ?result "dc") VAR("IDH"))
VGSH = value(VS("/GATE") VAR("IDH"))
VDSATH = value(v("NM0:vdsat" ?result "dc") VAR("IDH"))
GMH = value(getData("NM0:gm" ?result "dc") VAR("IDH"))
ROL = (1 / value(getData("NM0:gds" ?result "dc") VAR("IDL")))
ROH = (1 / value(getData("NM0:gds" ?result "dc") VAR("IDH")))
IDSL = value(IS("/V4/PLUS") VAR("IDL"))
IDSH = value(IS("/V4/PLUS") VAR("IDH"))

Now all the data can be generated for corners like typical and all skew with temperature to be imported in a chart like:

{
	{	
		corners = "tttt",	
		temps = 27,
		vars = "wid=4u len=10u di=1u dil=0.7u dih=1.3u TMP=temp",
	},
	{
		corners = {"ffff", "ssss"},
		temps = {27,125,-40},
		vars = "wid=4u len=10u di=1u dil=0.7u dih=1.3u TMP=temp",
	}
}